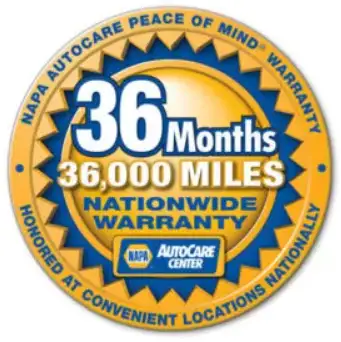 If you believe you have a warranty claim, please contact us for assistance at 509-662-4426
If you and your vehicle are more than 25 miles away from High Tech Automotive Inc., you may be eligible for our Repair Assurance Warranty. Please contact us, or if not during our normal operating hours, please scroll to the bottom of the page and click on the "Repair Assurance Warranty" button for more information.
Details of our In-House Warranty are below.
Limited Warranty
This limited warranty is extended only to you, the original purchaser, and not to anyone who may purchase your vehicle from you during the term of the warranty. High Tech Automotive Inc. warrants that the repairs and services performed at their location will be free from defects in materials and workmanship for the time and mileage denoted on the bottom of your paid invoice, whichever comes first, measured from the date of the first repair and the odometer reading shown on the original repair order. Warranty repair costs shall in no case exceed the costs of the original related repair or service. If there is a defect in either materials or workmanship within the warranty period, High Tech Automotive Inc. shall have the option to either perform remedial service work at no charge to you, replace the defective warranted part(s) without charge to you, or refund to you the entire charge for the warranted repairs, minus any previous refunds or credits. Warranty liability is for replacement of failed parts only. If you are less than 25 miles away from High Tech Automotive Inc., you must return your vehicle to High Tech Automotive Inc. If your vehicle is inoperable, and you are more than 25 miles away from High Tech Automotive Inc, you may be eligible for certain towing and/or rental car benefits covered by the Napa Autocare Peace Of Mind Nationwide Limited Warranty. Please call High Tech Automotive Inc. @ 509-662-4426 or Napa Autocare Peace Of Mind Nationwide Limited Warranty (PO Box 17659 Golden, CO 80402) at 1-800-452-NAPA for further details and instructions.
Expressly not covered under warranty:
This warranty does not cover any parts installed by someone other than High Tech Automotive Inc.
High Tech Automotive Inc. EXPRESSLY does not authorize any other business to perform any warranty repair or service on our behalf without contacting us directly before any repairs or services are performed. Written approval to proceed must be obtained from us beforehand and must specify in writing approved repairs, services, and total charges. If any warranty repairs are performed on the vehicle without our written approval, any warranty we extended will become immediately void.
This warranty does not cover any repairs due to vehicle misuse or negligence, overheating, lack of lubrication, damages due to contaminated fuels or lubricants, off road use, racing or high performance use, alterations, accidents, removal of any recording device installed for monitoring purposes or any other consequential damages. This warranty does not cover any repairs which are covered by manufacturer or other warranties in effect at the time of failure or malfunction.
Tires, brake friction material, remanufactured engines and remanufactured transmissions are governed by the warranties provided by the suppliers or manufacturers of these parts.
Unless otherwise stated, this warranty does not cover, nor extend, to any used parts purchased by us at the customer's request to complete a repair.
This warranty does not cover or extend to customer's loss of use of vehicle, towing charges, car rental, lodging, lost wages, interruption of vacation and/or business trip(s) or any other consequential or incidental damages incurred by any person or entity.
This limited warranty does not apply where the vehicle mileage cannot be determined or has been altered, or where proof of purchase is unavailable.
Oil changes and other fluid services will only be warrantied for the time and mileage of their respective life with the exception of defective workmanship.
Disclaimers and Notices
WARNING
Motor vehicles contain chemicals known to the State of California to cause cancer and birth defects or other reproductive harm. These chemicals are contained in many vehicle components and replacement parts, vehicle fluids, and paints and materials used to maintain vehicles, including, but not limited to fuel, oil, batteries, brakes, and wheel balancing weights. When you service, clean or maintain your car, you will be exposed to listed chemicals contained in used oil, waste and replacement fluids, fumes, grease, grime, touch-up paint, certain replacement parts, and particulates from component wear. When we service your car, we will return used components to you upon request. Used parts and components contain chemicals known to the State of California to cause cancer and birth defects or other reproductive harm.
To minimize your exposure when servicing, maintaining or cleaning your vehicle:
1) Work in a well-ventilated area;
2) Do not smoke, drink or eat while working;
3) Wash your hands when finished or when taking a break;
4) Follow all manufacturer instructions pertaining to proper use and maintenance of motor vehicles and vehicle components;
(Posted in accordance with Proposition 65 in Cal. Health & Safety Code §25249.5 et seq.)
For further information about Proposition 65: http://www.oehha.org/prop65.html.
Customer is hereby notified that the said property is not insured or protected to the amount of the actual cash value thereof, or otherwise, against loss occasioned by theft, fire or vandalism while the property remains with our repair facility.
Customer hereby grants High Tech Automotive Inc. employees permission to operate the vehicle herein described on streets, highways, or elsewhere for any mileage deemed necessary for the purpose of testing and/or inspection or delivery.
Customer states no articles of personal property have been left in the vehicle and our repair facility is not responsible for inspection thereof.
Our repair facility is not responsible for unavailability of parts or delays in parts shipment beyond our control.
Due to the type of service requested some repairs must be sublet.
All sales are cash unless otherwise negotiated.
All charges for repairs including labor and materials furnished are due and payable simultaneously with the delivery of the within described vehicle or prior to delivery, upon the expiration of three (3) days after notice that the repairs have been completed. Notice shall be deemed to have been given after successfully notifying customer via phone, text or e-mail or upon the deposit in the United States mail, postage prepaid, of written notification to that effect, addressed to the customer at the address given on the reverse side hereof. If the vehicle described herein is not picked up within three (3) days after such notice is given, a storage charge of $15.00 per day will be made for each day thereafter.
Our repair facility is authorized to deliver the vehicle described herein or any of its contents to any person presenting this receipt.
Future maintenance/servicing costs are not included in this Repair Order unless so stated in writing.

In addition to any and all other legal remedies available, I authorize your repair facility to have a lien on the vehicle described herein for all charges for repairs, including labor and parts, storage and/or towing, and to enforce such lien. Said Dealer is hereby expressly authorized to sell said vehicle at public auction after giving a twenty (20) day written notice by certified mail to the legal owner, registered owner, and Department of Motor Vehicles of intent to do so.

You will be charged no more than the estimated price approved by you. However, if we discover that different or additional repairs are indicated, you will be contacted for your advance approval of a revised estimate. Our charges for labor are not based on actual mechanic's time, but are established by multiplying our retail labor rate by Industry time allowances (flat rate) or our own judgment of the time to be charged.
A Hazardous Materials waste disposal charge will be added when items removed from your vehicle or items used in conjunction with the repair of your vehicle must be disposed of in compliance with federal, state and local government hazardous waste regulations. These items could include any of the following: Oils, greases, antifreeze, freon, cleaning fluids, non-recyclable items, etc.
Parts sales only; absolutely no labor claim will be paid on defective parts. Exchange or refund of defective part is the maximum warranty issued. Warranty on parts sold is limited to time and mileage offered by the part manufacturer or supplier only. No return, refund or exchange on the following parts: Electrical parts, soft trim, glass and/or special ordered items. All returns must be within 15 days from the date of purchase and will be subject to a 20% handling fee.